(This post is part of a series. If you'd like to know what it's all about, go
here
.)
Have I mentioned how much I love this 40 day business? I really do. I never know when or how I'm going to get my "Jesus gift", but it always comes. And it's always perfect.
Every good and perfect gift is from above, coming down from the Father of the heavenly lights, who does not change like shifting shadows.
(James 1:17)
Today was no exception. It was a difficult day, emotionally for me, and physically for Sam. (The first part of Sam's story can be found here.)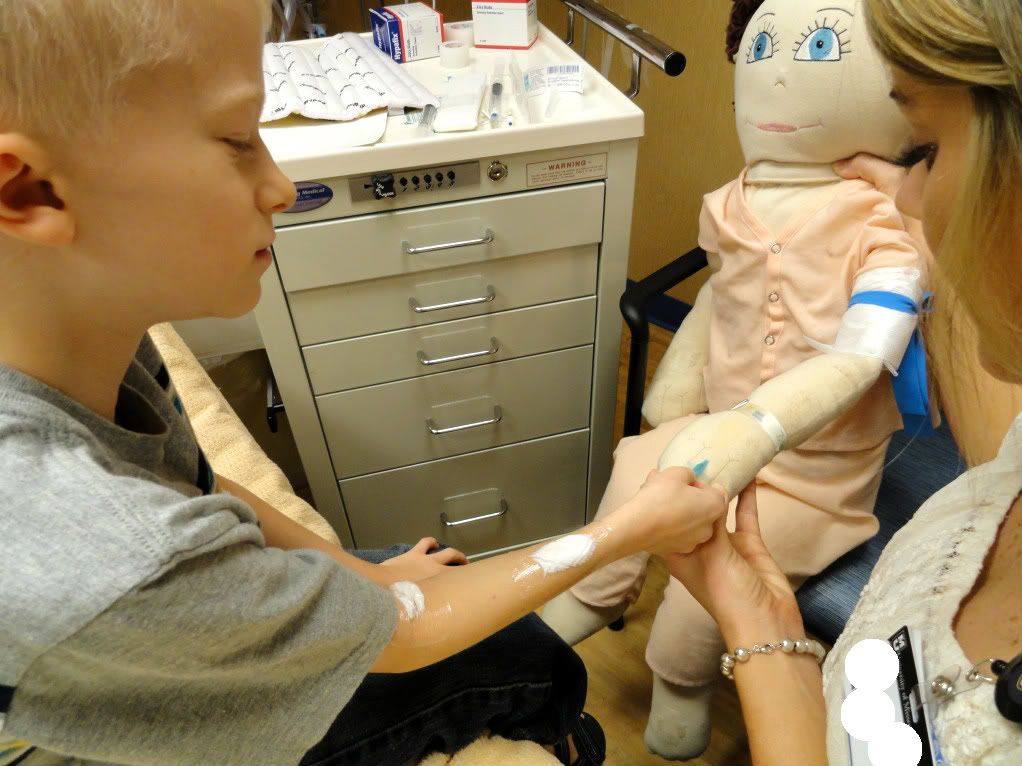 Sweet little Sammo endured ten hours of procedures and tests at the hospital today.
He was wonderful and brave, but everything made him really sick, and he was fighting tears most of the time.
As I drove us home, Sam puked in his plastic bag while I cried in a wet wipe. (Evidently I need to buy some tissues for the van.) I cried because we did this to him today, and I was really feeling rotten about that. I kept checking him in my rear view mirror, and suddenly I wished I could scrunch him back down into a little baby again. I wanted to swaddle him in a soft blanket, hold him in my arms and pat his little back. I felt jealous of that magical cocoon that seems to surround mothers and their newborns.
We are not in that cocoon anymore, Sam and I. Life is pukey sometimes, and he's old enough to know it. As I got him tucked into bed at home, I had to break the news that he wouldn't be going to the church back-to-school party or the sleepover planned for later. He didn't try to stop the tears this time. The flood was loosed, and I felt helpless to comfort him.
Just as I was about to suggest something totally lame like me doing the happy dance for him, Sara came breezing in on her way to the party. "I almost forgot, Sam. You got mail today!" Hmm...here was something. Mail from Grandma. A lovely distraction, but the letter inside turned out to be so much more than that. It was Jesus, ministering to Sam's heart and mine, and as I read it aloud to Sam, I was the one who let the flood loose.



Dear Sam,
I have wanted to write you a letter ever since the first time you went to the doctor about your growing thing. I am so happy that you are trusting God to make you grow, and that He is making it happen! We have some really good doctors on this earth, but God is the BEST DOCTOR OF ALL, isn't He? Sometimes, doctors have a hard time figuring out exactly what is wrong or how to fix it, but God always knows everything about everything.


Have you ever noticed that there are lots more trees, and really tall ones, too, along the banks of a river? That is, of course, because there is plenty of water there for their roots to drink. I believe that God wants you to grow like a tree by the river, too, and that you WILL grow like a tree by the river--tall and healthy. You see, your roots are getting what they need for you to grow, too, just like those trees by the river. Your roots are drinking from the river of life, which is God's word. Every time you read God's word or memorize a scripture from His word, you are drinking from the river of life.


Here is what the Bible says about this: "How blessed is the man who does not walk in the counsel of the wicked, nor stand in the path of sinners, nor sit in the seat of scoffers! But his delight is in the law of the Lord, and in His law he meditates day and night. And he will be like a tree planted by streams of water, which yields its fruit in its season, and its leaf does not wither; and in whatever he does, he prospers." Psalm 1:1-3


Kyle Matthews sings a song about this, and every time I listen to it, I think about you and I rejoice that God is causing you to grow. He is so good to us, isn't He? I think the name of the song is Trees By the River. It has really good words. Maybe your mom has it, and you could listen to it, or if she doesn't, maybe I could get a copy of the CD for you. I love you, Sam.


Grandma


How did my mom know that we both needed these words right at that moment? She didn't! That's the beauty of Jesus. She felt impressed to write that letter. She didn't remember that Sam had his tests today (my fault completely!). She just followed the leading of the Holy Spirit, and He worked the timing out perfectly. Thanks, Mom, for being Jesus to my boy and me today!
And thank you, Jesus, for comforting both of us and speaking truth to our hearts that uplifted better than any party could. You are so good to me! I love you so much. ~R