(This post is part of a series. If you'd like to know what it's all about, go
here
.)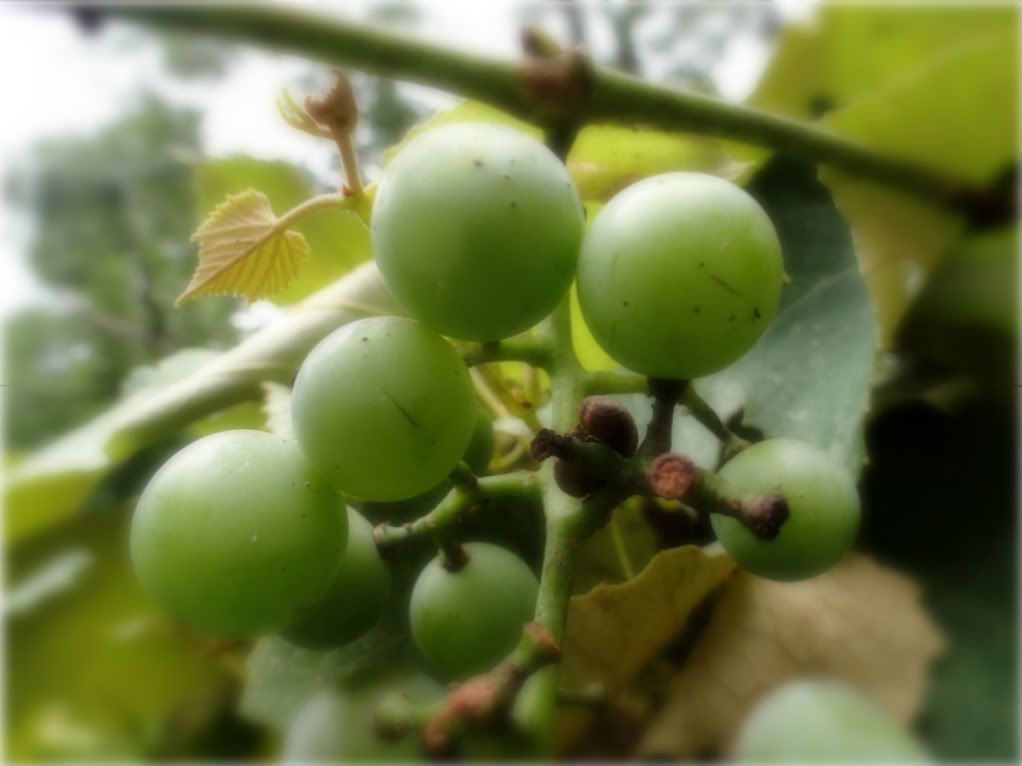 The ruse is up. This is a crumbling facade. You think we are a normal family with regular kids. Well, you are wrong. Our kids are actually talented child actors who we took on as free labor...
...to work our vineyard. Yes, we have a very large vineyard that produces half a bucket of grapes every year. I know. How surprising. And super cool.
Please don't be fooled by the romantic softness of these photos. Working the vineyard is neither romantic nor soft. It is hard, people. Hard labor. And that is why we hired our laborers. See that little girl I have been referring to as my daughter? She has arms like the Hulk.
No, little girl. We don't smile about grapes like this. That grape has a black spot. Toss it to the birds, and get back to work. Now!
No, kid, This one doesn't pass muster either. It's too tiny. Hey! You in the background. What do you think this is? A picnic? Get back to work!
Yeah, I'm watchin' you, buddy. Don't give me that look.
Alright! Who put nuts in the grape bucket?
By the way, we also grow raisins. Right next to the grapes! I wanted to point that out, because it increases the value of our vineyard and it also increases our coolness.
Okay, okay. While the kids are upstairs stomping the grapes in the bathtub, I'll tell you the truth. For real.
The truth is, we have a smallish sort of grape arbor in the backyard. And while it does produce grapes, it is hardly a vineyard. And we certainly don't "work" it. In fact, sometimes I forget it's even there. The birds use it for shelter and nesting and food, but the grapes are too sour for us to eat.
But I'm so glad the kids "discovered" the grapes today, because it has had me meditating on one of my most favorite Bible passages ever.
"I am the true vine, and my Father is the gardener.

He cuts off every branch in me that bears no fruit, while every branch that does bear fruit he prunes so that it will be even more fruitful.

Y

ou are already clean because of the word I have spoken to you.

Remain in me, as I also remain in you. No branch can bear fruit by itself; it must remain in the vine. Neither can you bear fruit unless you remain in me.
"I am the vine; you are the branches. If you remain in me and I in you, you will bear much fruit; apart from me you can do nothing.
If you do not remain in me, you are like a branch that is thrown away and withers; such branches are picked up, thrown into the fire and burned.
If you remain in me and my words remain in you, ask whatever you wish, and it will be done for you.
This is to my Father's glory, that you bear much fruit, showing yourselves to be my disciples.
So, the way I see it, I'm going to get cut either way. If I'm not remaining in Jesus and bearing fruit, I'm getting cut. Cut right off. But if I remain in Jesus, I'm still getting cut, only it's a loving cut. A pruning cut. The kind you do to the plants you love that you want to bloom more. Cutting is painful. Either way is going to hurt. But one way produces death, while the other produces fruit. I choose fruit.
A regular prayer of mine for a long time has been that the Lord would teach me what it means to remain in Him and how to do that.
I don't think there is anything mysterious or complicated about it. To remain or to abide simply means to continue in a place or in a condition or state. Thinking of Jesus' vine and branch analogy, it means just staying connected. And how do I do that? The same way I stay connected to anyone else. Talk to Him. Listen to Him. I read His word and meditate on it, so it remains in me. I talk to Jesus and think about Him, so that I remain in Him.
It's so terribly simple, but without this "remaining in Him" I would be one of those branches that gets withered and tossed into the fire. So, this may be simple, but it is also vital. So very important.
I realized today that one way God has answered my prayer about remaining in Him, is by inspiring me to do these 40 days of Now. It has been such a simple, effective way to stay connected to Jesus every day. Have you tried this yet? In the morning, before things get crazy, ask Jesus to reveal Himself to you sometime during the day. Then expect Him to, because He will. Watch and see what He will do! You will be blessed.
Jesus, thank You for showing me who You are today in my grapevine. You are my vine! I am so happy to be connected to You. I can do nothing without You. Father, prune away the parts of me that don't bear fruit. Jesus, Your life flows through me when I stay connected to You. Teach me to be faithful and fruitful every day. ~R