(This post is part of a series. If you'd like to know what it's all about, go here.)
Hello, dear friends! This is a day of celebration at our house, and I'm thinking of how I see God the Father in celebrations and anniversaries. A read through the Old Testament will reveal that God is the author of festivals, feasts, and special ceremonies. This gives some insight into why we love to set aside special times of coming together, remembering, and rejoicing. We are made in the image of the God Who celebrates!
The LORD your God is in your midst, a mighty one who will save; he will rejoice over you with gladness; he will quiet you by his love; he will exult over you with loud singing.
So, over here the news is my baby is four and my blog is one! Ben gets to pick where he wants to eat dinner tonight, and he's already chosen Burger King. Not my fave, but that's okay, because I get to choose how to celebrate one year of writing this blog. I choose a giveaway! I love giving things away, especially things I make. So many good things have happened as a result of sharing my story here. Highest on the list is the blessing of hearing your stories in return. Thank you so much for sharing with me the good things the Lord has done in your heart, too.
So...do you want a nice tote? You know, to tote things in? With a front and back pocket? You do? Oh, good, 'cause I'm giving this one away. You see, I have an excess of this lovely cream vinyl. I fell in love with a fairly large half-price remnant, because it's so soft and supple, kind of like nice leather. And it wipes clean with a damp cloth. I know, because she got slightly dirty in the photo shoot, but she's all clean now!
If you'd like to be added to the random drawing, leave a comment here or on facebook. If you have trouble leaving a comment as some have mentioned to me, feel free to send me an email: pioneergirl(at)embarqmail(dot)com. Happy entering! I hope you win!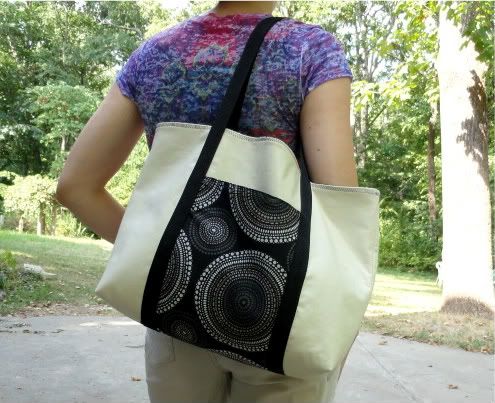 P.S. Don't be shy.